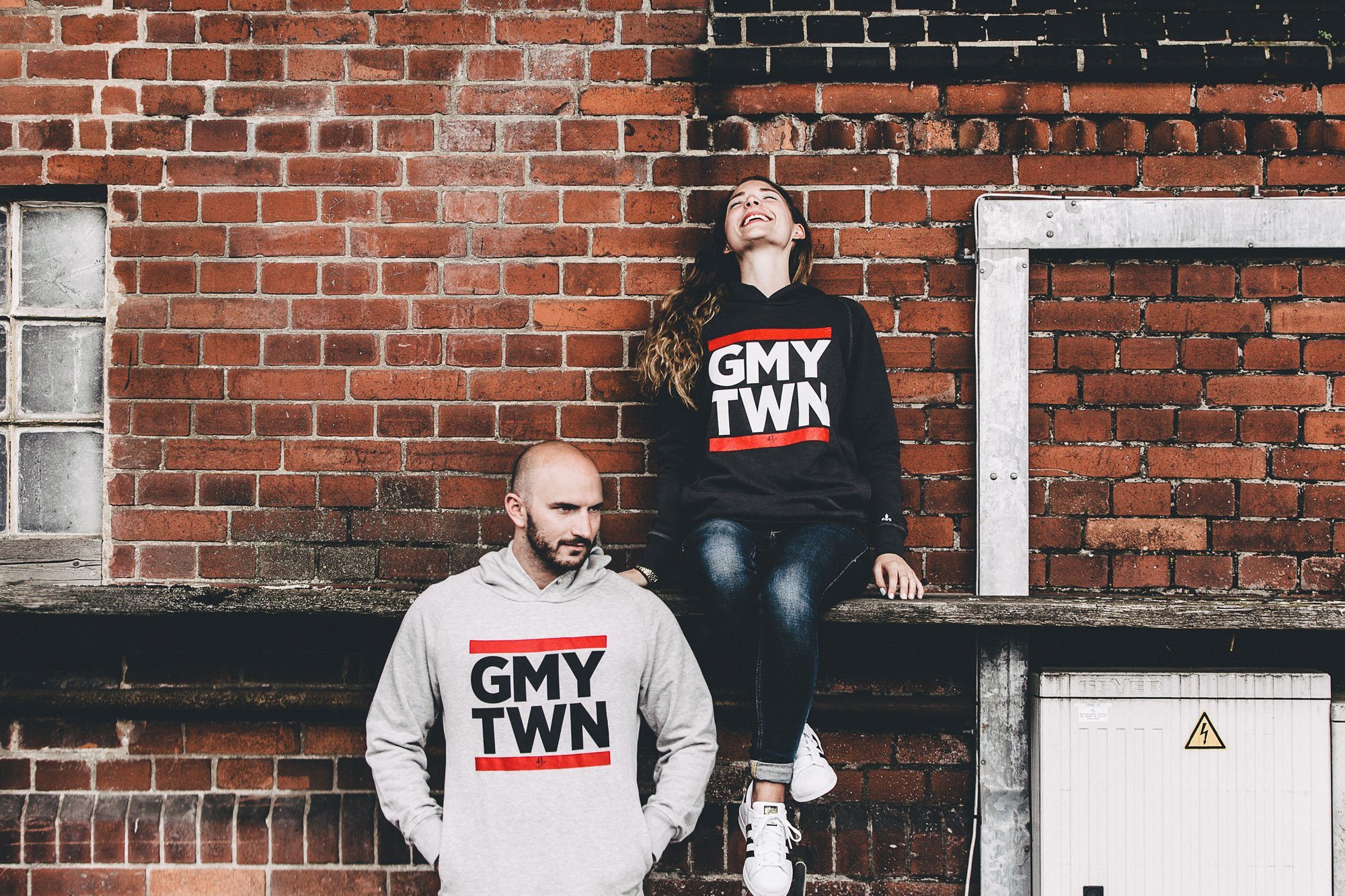 43einhalb – "GMYTWN" Kollektion: Don't mess with Hessen!
Wir nennen unsere Heimatstadt Fulda oft wie selbstverständlich "Gummytown" und haben es bisher immer versäumt den Nicht-Rhönern zu erklären, woher dieser Name überhaupt kommt. 1900 legte Gustav Becker zusammen mit Moritz Hasenclever den Grundstein für "Gummytown" als sie die Gummiwerke in Fulda gründeten und eine weltweit führende Reifenproduktion -Achtung!- ins "Rollen" brachten.
Es muss etwas um 90 Jahre später gewesen sein als zwei Fuldaer Jungs – stolz wie Bolle auf ihr erstes Paar adidas Originals Superstars – mehr schlecht als recht verdammt lässige Breakdance-Moves im Keller ihrer Eltern einstudierten. Inspiriert von amerikanischen Hip-Hop Acts wie Grandmaster Flash und Public Enemy saßen die Hosen tief und die Kappen schräg. Doch schnell mussten die beiden zwei schmerzhafte Lektionen lernen: In Superstars zu breaken sorgt umgehend für sehr heiße Füße und einen Headspin mit Kappe zu machen bohrt unweigerlich den Squatchee in den Schädel. Autsch!
Mit Breakdance war kurz darauf Schluss, die Liebe für Hop-Hop blieb bis heute bestehen. Besonders Run-D.M.C. hatte es einem der beiden angetan – nennen wir ihn für diese Geschichte einmal Mischa. "The krush groovin, the body-movin, the record makin and the record breakin" Hip-Hop Combo prägte seine Jugend, seinen Musikgeschmack und findet sich auch heute noch in seinen favorisierten Musiklisten wieder.
Der Junge ist groß – aber nie so richtig erwachsen – geworden und hat sich seinen Traum vom eigenen Turnschuhladen inklusive einer Sammlung Superstars erfüllt. Das alles in seiner Heimatstadt "Gummytown". Da lässt eine Hommage an Jam Master Jay, Run und D.M.C. natürlich nicht lange auf sich warten!
Heimatverbunden mit dem gewissen Touch Old-School Flair und einer ordentlichen Portion Hip-Hop-Historie präsentieren wir Euch nun unsere neue "Gummytown"-Kollektion. Und weil der Mensch auch etwas essen muss und wir einfach nicht genug davon bekommen, gibt es zur jedem Hoodie eine Dose unseres eigenen 43einhalb "GMYTWN"-Schwaddemagen! Lasst es Euch schmecken & Don't mess with Hessen!
Der Release der 43einhalb – "GMYTWN" Kollektion findet Instore First diesen Samstag mit einer kleinen Verköstigung bei uns am Peterstor in Fulda statt online gibt es das ganze dann hier, im 43einhalb Online Shop.