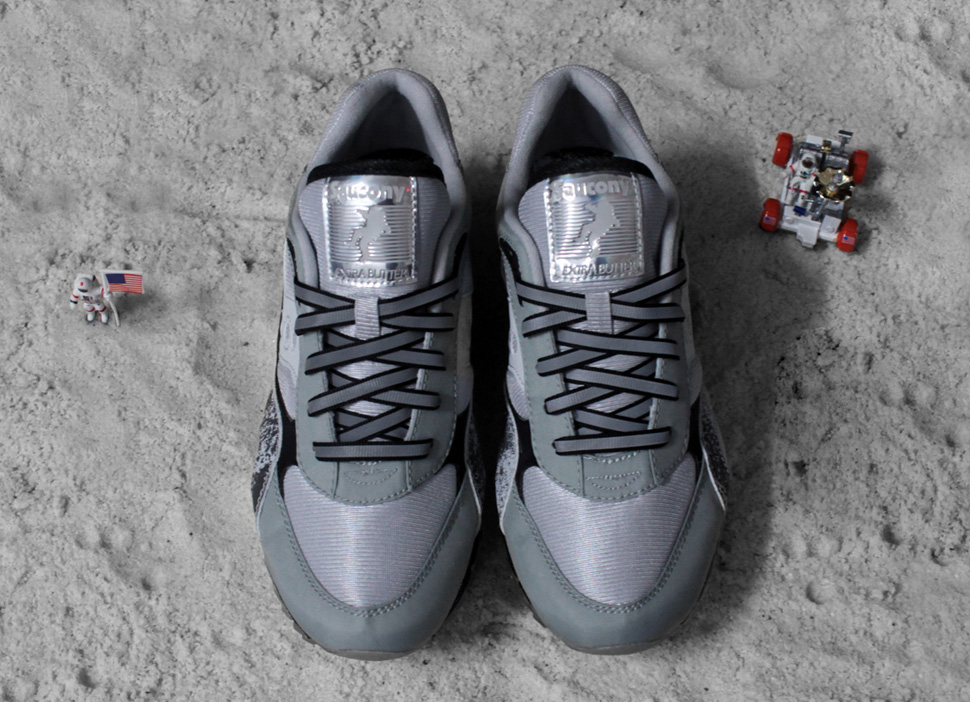 Nachdem Beitrag zum Extra Butter x Saucony Grid 9000 – "ACES", geht es weiter mit dem Extra Butter x Saucony Shadow 6000 – "Moon Walker".
Der nächste Streich der Kollaboration von Extra Butter und Saucony geht in die nächste Runde mit dem Shadow 6000 in einem "Moon Walker"-Colorway. Das Saucony damals bei den Apollo-Missionen der NASA, die Moonboots entwickelt hat, haben wir Euch letztes mal schon erzählt. Der Shadow 6000 wurde jetzt inspiriert durch die damaligen Raumanzüge und dem Mond. Hier die Beschreibung von Extra Butter:
We start with a sport micro-mesh base, as fitted on all classic Saucony runner during the same era. The overlay dons a light grey 210 Denier, durable nylon oxford, reminiscent of NASA's original silvery space suits. A topographic lunar landscape pattern graces the mudguard and heel wrap of the silhouette, while the midsole dons a starry black and white speckle. The sheen reflective properties of the tongue label and heel tab evoke the mirror-like visors astronauts sport to protect themselves from the harsh UV rays of the sun. The overall subtle grayscale palette is given accent with a reflective Saucony river logo panel and an optional set of reflective laces. And finally, a translucent ice sole provides a see-through into more of the lunar pattern, reminding us wherever we go, our potential is far greater.
Der Extra Butter x Saucony Shadow 6000 – "Moon Walker" findet seinen Release online am 02.06.2014 natürlich bei Extra Butter.