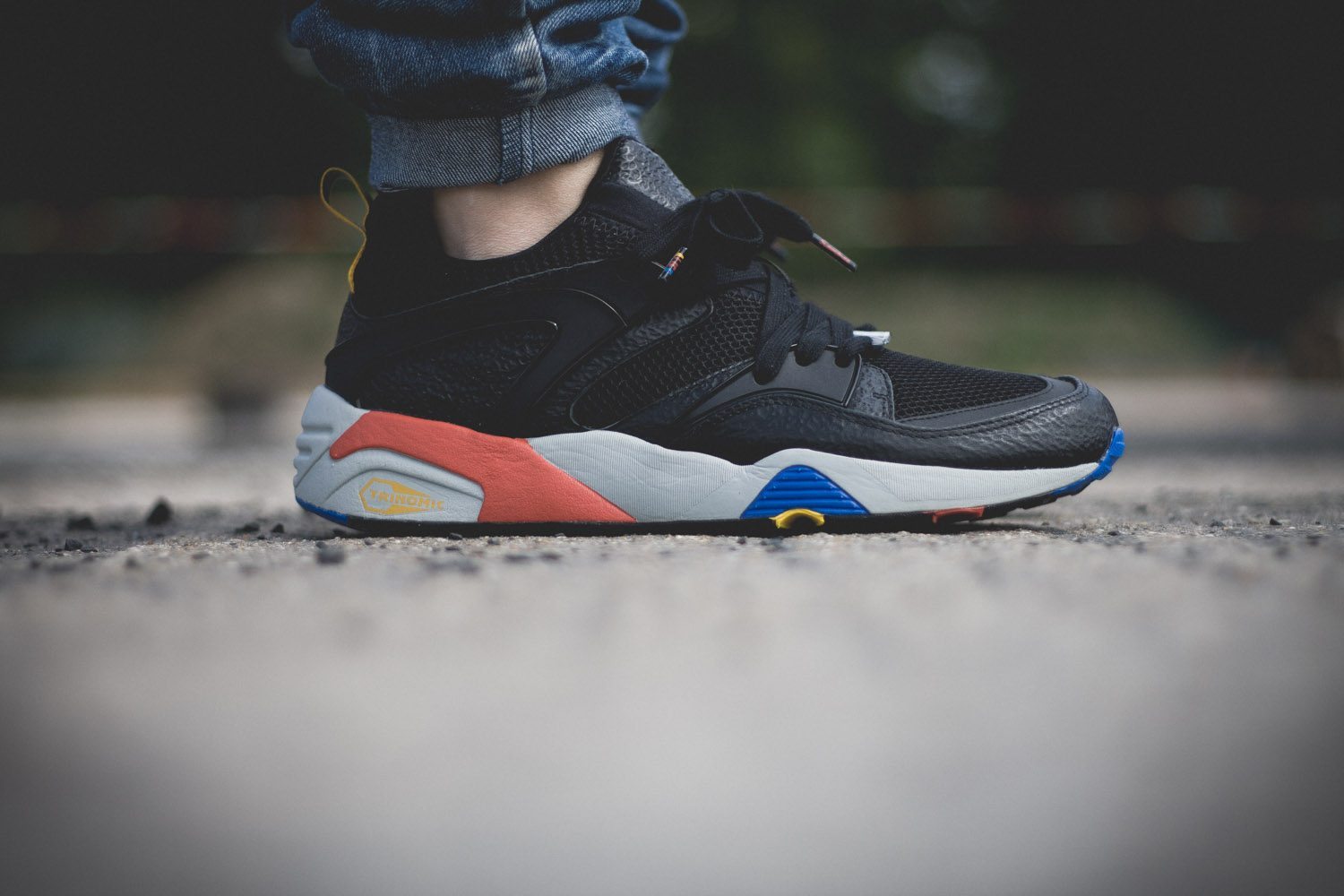 PUMA x ALIFE – Blaze of Glory: Der "Sessions" Colorway!
Am letzten Wochenende war es soweit und der zweite Part der PUMA x ALIFE Kollabo wurde released und alle drei Colorways haben wohl eingeschlagen wie eine Bombe!
Heute ist dann auch mein Paket von PUMA gekommen und enthalten war der Blaze of Glory, welcher sich perfekt in meine Sammlung ergänzt. Der Colorway selbst heißt "Session" und wurde wie auch der R698 und Disc Blaze von ALIFE selbst inspiriert und hier wurden die regelmäßigen Partys im Innenhof des ARC wiedergeben.
Der schwarze Mesh Upper trifft auf schönes schwarzes Leder und halten die Silhouette so sehr schlicht. Neben den schwarzen Laces gab es auch noch ein Paar in gelb, wie an der Fersenschlaufe zu erkennen ist.
Die Midsole wurde grau grundiert und erhält blaue, rote und gelbe Akzente und peppen den Blaze of Glory ein wenig auf. Wie immer darf auch nicht die beliebte Trinomic-Dämpfung fehlen und den Abschluss macht eine schwarz gummierte Outsole.
PUMA x ALIFE Blaze of Glory – "Sessions"
Style-Code: # 357735-01
HIGH/RISE HIGH/RISE/DANDELION
Auf dieser und der nächsten Seite findet Ihr wie immer noch ein paar OnFeet-Fotos von mir. Wer hat noch bei der PUMA x ALIFE Kollabo zugeschlagen? Ich glaube die anderen beiden Modelle müssen auch noch ran!
Den PUMA x ALIFE – Blaze of Glory, R698 und Disc Blaze bekommt Ihr jetzt an vielen Stellen. Werft einen Blick in unsere Release Kategorie für eine Übersicht!